About Railway Transportation from China to Europe.
Why Choose Rail Transport?
In recent years, China Railway has shipped freight through the famous Silk Road railway that connects 12,000 kilometers of track via the Trans-Siberian Railway.

This service allows both importers and exporters to ship to and from China in a fast and cost-effective way.

Now as one of the most important shipping methods from China to Europe, except sea freight and air freight, railway transportation is getting a very popular choice for importers from Europe.

It is faster than shipping by sea and cheaper than shipping by air.

Here is a sample comparison of transit time and cost to different ports by three shipping methods for reference.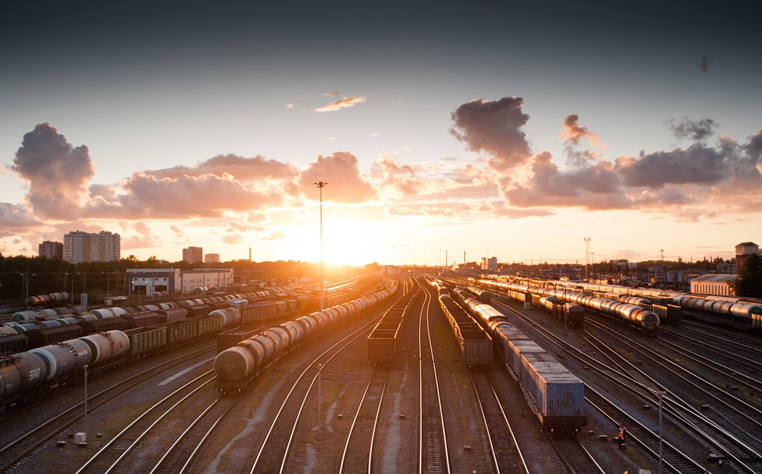 Germany

Poland 

Finland

 

Transit time 

Shipping cost 

Transit time 

Shipping cost 

Transit time 

Shipping cost 

Sea 

27~35 days

a

27~35 days

b

35~45 days

c

Air 

1-7 days 

5a~10a

1-7 days 

5b~10b

1-7 days 

5c~10c

Train

16~18 days 

1.5~2.5a

12~16 days 

1.5~2.5b

18~20 days 

1.5~2.5c
Main route: From China to Europe includes the sevices starting from Chongqing, Hefei, Suzhou, Chengdu, Wuhan, Yiwu, Zhengzhou city,and mainly ship to Poland/Germany,some to Netherlands, France, Spain directly.
Except above, our company also offers direct rail service to North European countries like Finland, Norway, Sweden, which takes around 18-22 days only.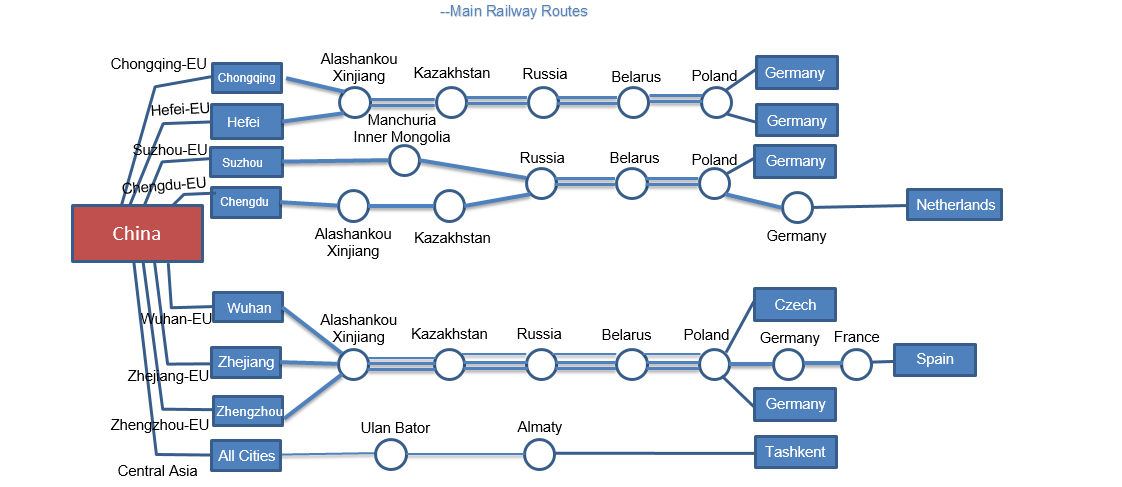 About MOQ & What Other Countries Available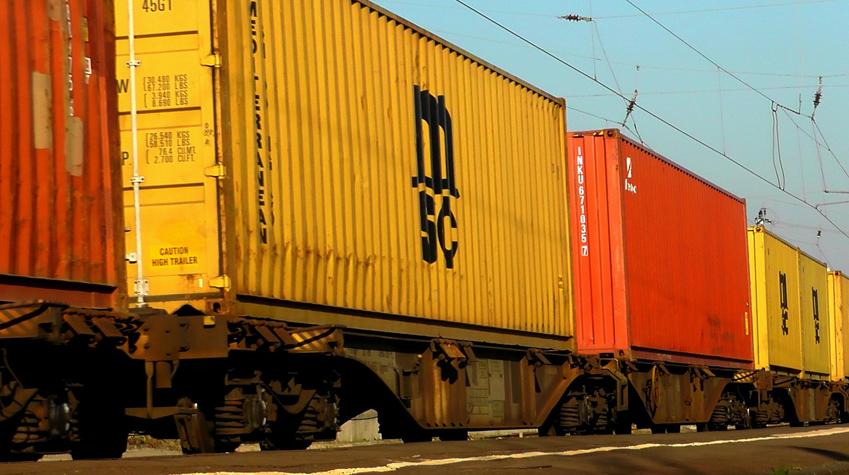 If you want to ship by train, how many goods minimum for a shipment ?
We can offer both FCL and LCL shipment for train service.
If by FCL, minimum 1X40HQ or 2X20ft per shipment. If you only have 1X20ft, then we will have to wait for another 20ft to be combined together, it is also available but not that recommended due to the time of waiting. Check case by case with us.
If by LCL, minimum 1 cbm for des-consolidate in Germany/Poland, minimum 2 cbm may apply for des-consolidate in Finland.
What other countries or ports can be available by train except above countries referred ?
Actually, except for the destination referred to above, FCL or LCL goods to other countries are also available to be shipped by train.
By transitting from above main ports to other countries by truck/train etc.
For example, to UK, Italy, Hungary, Slovakia, Austria, Czech etc. via Germany/Poland or other North European countries like shipping to Denmark via Finland.
What Should Be Paid Attention To If Shipping By Train?
For container loading requests & about unbalance loading
According to the regulations of international railway container freight, it is required that the goods loaded in railway containers are not biased and overweight, otherwise all the subsequent costs will be undertaken by the loading party.

1. One is to face the container door, with the center of the container as the basic point. After loading, the weight difference between the front and back of the container should not exceed 200kg, otherwise it can be considered as front and backward biased load.

2. One is to face the container door, with the center of the container as the basic point on both sides of the load. After loading, the weight difference between the left and right sides of the container should not exceed 90 kg, otherwise it can be considered as left-right biased load.

3. Current export goods with left-right offset load less than 50kg and front-rear offset load less than 3 tons can be considered to have no offset load.

4. If the goods are large goods or the container is not full, the necessary reinforcement must be carried out, and the reinforcement photos and plan should be provided.

5. Bare cargo must be reinforced. The degree of reinforcement is that all items inside the container cannot be moved during transportation.
For pictures taking requirements for FCL loading
No less than 8 photos each container:

1. Open an empty container and you can see the four walls of the container, the container number on the wall and the floor

2. Loading 1/3, 2/3, finished loading, one each, a total of three

3. One picture of the left door open and the right door closed (case number)

4. A panoramic view of closing the container door

5. A photo of the Seal No.

6. The whole door with a seal number

Note: If there are measures such as binding and reinforcement, the center of gravity of the goods must be centered and reinforced when packing, which should be reflected in the photos of the reinforcement measures.
Weight limit for full container shipping by train
The following standards based on 30480PAYLOAD ,

The weight of 20GP box + cargo shall not exceed 30 tons, and the weight difference between the two matching small containers shall not exceed 3 tons.

The weight of 40HQ + cargo shall not exceed 30 tons.

(That is goods gross weight less than 26 ton per container )
What Information Need To Be Offered For An Inquiry ?
Please advise the information below if you need an inquiry:
a, Commodity name/Volume/Weight, it is better to advise a detailed packing list. (If goods are oversized, or overweight, detailed & accurate packing data need to be advised; If goods are non-general, for example with battery, powder, liquid, chemical etc. please specially remark.)
b, Which city(or accurate place) are goods located in China? Incoterms with supplier? (FOB or EXW)
c, Goods ready date & when do you expect to receive the goods?
d, If you need customs clearance & delivery service at the destination, pls advise the delivery address for checking.
e, Goods HS code/goods value need to be offered if you need us to check duty/VAT charges.